Wooden House Restoration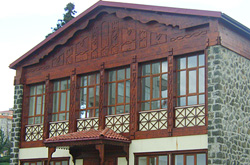 Our company was founded in 1953 on the activities of olup.Ahşap building decoration industry continues to be the best and most reliable.&nbsp 1953 Wood construction decoration sector for its work with quality materials and workmanship from snake to grow their business has taken a step further. Because of the value and credibility given to us by our customers today are equivalent to the forefront of customer satisfaction and decoration of wooden construction. Us from our valued customers today, and today our work has brought us to our principles. Exceeded 25 years in the business of each of the masters who experienced the most reliable and most professionals. Industry perspective, a different, bright spacious design spaces, living spaces, combining imagination, we offer the world of magic wood. As you are worthy of ...

Deterioration of the wooden structures, once formed in our region, demanded the solutions produce

Sözenler Forest Products

. Appearance of the first day of premises, an expert architect and technical team to reach the required structure, designed and carry out renovation and restoration work.