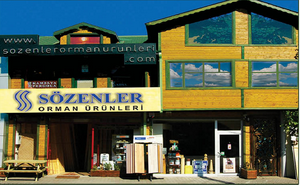 In 1953, Idris SÖZEN founded by father and son SÖZEN H.Osman SÖZENLER FOREST PRODUCTS consumer awareness of environmentally friendly products to offer developing technology has managed to collate a company.

SÖZENLER FOREST PRODUCTS later years, with the participation of third generation, wood and construction sector and investment management activities are continuing.

SÖZENLER FOREST PRODUCTS laws and ethical rules that adhere to the corporate vision, integrate with the customers in the foreground, and the universal values ​​of humanity to fulfill its duties in the carrying out the responsibilities of taking care of its employees to accept as members of the family, this family that has made a policy of institutionalization.

&nbsp


Investments in our corporate mission as the people of our countrySÖZENLER FOREST PRODUCTS to create more employment and developing technology products to be more beneficial to our economy and personal accumulation kneading is to have a say in world markets.
5000m2 closed factory installed, high-technology region of 7000m2 open area for timber production is the largest wooden-built facilities.

Our timber factory has Format Lines, Nexus Generation, Generation Crate Wooden Pallet, Wooden Laminated Beam Profile and Production, Finger-Joint Line, Log Home Production Line, Panel Production Lines Seren, and there are massive.

Spruce and pine trees which we import our plant fungi, insects and termites that protect against the attacks of the European and world standards and are environmentally friendly wood preservative by vacuum pressure method Tanalith_E impregnation operations are performed.

SÖZENLER FOREST PRODUCTS production only, including but without compromising on quality production and services, reasonable pricing concept that opened the door and press facility located Değirmendere and Factory Outlet Store, offers the ultimate consumers.